Product Info for NcStar Tactical Red/Green/Blue Dot Sight w/ Cantilever Weaver Mount:
The NcStar Tactical Multi-Color Dot Sight w/ Cantilever Weaver Mount is made with you in mind when constructed of black anodized aluminum and featuring red, green and blue dots. the 30mm cantilever Weaver style mount allows you to mount onto most weaver style or picatinny rails. The Nc Star Multicolor Dot Sight has red, green, and Blue LEDs which are 100% safe for the eyes. To top it off there are three brightness settings for the red, green, and blue dots. The NcStar Tactical Red Dot Sight is just what you need to mount on your gun.
Specifications for NcStar Tactical Red/Green/Blue Dot w/ Cantilever Weaver Mount:
Length:

5.0'
Width:

2.7'
Height:

3.1'
Weight:

8.9 oz.
Mount Length:

2.68'
Objective Lens Diameter:

35mm
Magnification:

1X
Reticle:

Red, Green, & Blue Dot
Dot Size:

3 MOA
Click Value:

1 MOA
Lens Coating:

Platinum
Battery Type:

CR2032
Features of NcStar Tactical Multi-Color Dot Sight w/ Cantilever Weaver Mount:
Unlimited eye relief

Black anodized aluminum construction

Three brightness settings for the Red, Green, Blue Dots

30mm Cantilever Weaver Style Mount for mounting onto most Weaver Style/Picatinny rails

Red, Green, and Blue LEDs (Light Emitting Diode) 100% safe for the eyes
CUSTOMER REVIEW
XLNT value
by Sparky
★★★★★
I was a little dubious about the price but having used a couple of other NcStar rifle scopes with satisfaction over the years I thought I would give it a try.
First off, this is very well made sight and mount. Secondly, it worked without too much fuss. Bore sighted it and quickly zeroed on paper. After 500+ .223 rounds the zero is still on. Included flip up caps a real bonus!
If I had any complaints it would be that the glass could be a bit brighter on thru transmission, but that is minor at this price-point. I noticed this while walking in the forest at dusk with patchy fog blowing thru. Soaked it good in the rain that day; no glitches.
I like it and plan to purchase at least 2 more, 1 will be for use on an airsoft game rifle my kids use. The airsoft game will be a durability test for sure.
---------------------------------------------------
NcStar 35mm Tri-Color Dot Reflex Optic
by Ray
★★★★
Very easy to set up and use, for a person with a slight color blindness it is a great advantage to have 3 colors to choose from. I have easily sighted it to 100 yards and have no problem with needing to re- align. Great price! and well built.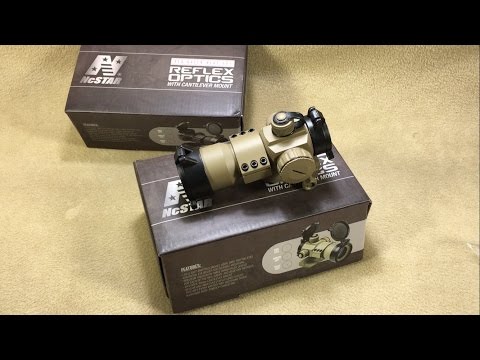 NcStar DRGB135T red/green/blue dot reflex optic with cantilever mount - YouTube
Video will open in a new window
Using the eBay App? Paste link into a browser window:
When will my order be processed?
We process orders between Monday and Friday. Orders will be processed within 1-2 business days from the order date and shipped the next day after the processing day. Please note that we don't ship on weekends.
Will I be charged with customs and taxes?
The prices displayed on our site are tax- free in US Dollars, which means you may be liable to pay for duties and taxes once you receive your order.
Import taxes, duties and related customs fees may be charged once your order arrives at its final destination, and are determined by your local customs office.
Payment of these charges and taxes are your responsibility and will not be covered by us. We are not responsible for delays caused by the customs department in your country. For further details of charges, please contact your local customs office.
Shipping
Orders are shipped after processing. Please allow up to 2-5 business days for items to be shipped, unless noted in the item listing. Generally, transit of shipment is 2-5 business days or may take longer due to occasional holiday season issues. We cannot guarantee shipping times of items that are not regularly stocked in our warehouse. You can be check your order status via your account on therike.com or by calling customer support at 314-537-4134.
You are responsible for all costs related to the shipment, including charges by the shipping company that were not paid during check out. These might include but are not limited to: additional charges due to inaccurate information provided to The Rike relating to the delivery charges due to failed delivery attempt(s) by the shipping company, etc.
Any shipment that is refused or cannot be delivered AND is returned by the carrier will be considered an unauthorized return.
Delivery & Receipt of Order
You are responsible for inspecting the shipment during delivery by the shipping company for damages, both obvious and hidden. You will accept the delivery and note on the delivery receipt for any damages or concerns. If the item is damaged beyond the point of being in working or usable condition, please refuse delivery and immediately notify The Rike. We will work with the shipping provider to replace the item for you.
Failure to notate any defects could result in a significant reduction in the carrier's liability during damage claims. You are responsible for filing any loss or damage claims in the manner and time frame directed by the carrier. You are responsible for any concerns, issues, or charges for the shipments and agree to hold The Rike, its suppliers, and its vendors harmless.
Shipping companies do not allow third-parties to file or get involved in a damage claim. The Rike is a third party in the shipment of most of the items it sells. The Rike will willingly assist you with the filing and handling of the claims based on your needs and requests.
Problem Reporting
Problems or concerns must be reported by email to The Rike within 15 days of receipt of the item. If you call to report an item damaged in transit we do not consider the report official until we have confirmation of damages and have sent you a confirmation email.
Any reports of malfunction may require a detailed inspection report from a qualified technician. You agree to cooperate with problem identification and correction efforts.
You agree to abide by The Rike's decisions regarding problem resolution.
60 Day Money-Back Guarantee
​We want you to be fully satisfied with every item that you purchase and have the best possible online shopping experience from TheRike.com. If you are not satisfied with an item that you have purchased, you may return* the item within 60 days of delivery for a full refund** of the purchase price, minus the shipping, handling or other additional charges.
Refunds (if applicable)
To be eligible for a refund or exchange, you must first email us within 60 days of receiving the products at info@therike.com with pictures of the damaged items. Upon the receipt of the damaged item, we will ship out a replacement, if available. If a replacement is not available, we will refund the full purchase price of your item.
Return Policy
Regularly stocked items may be returned within 60 days of receipt of the item.
Not all items will qualify for returns. Used equipment, custom or manufactured-to-order items, mishandled or misused equipment, and items that are not in resalable condition are ineligible for returns. Approval of return requests is at the sole discretion of The Rike.
A standard restocks fee of 10% will be applied to returns. Shipping costs are non-refundable.
You must reach a return agreement with The Rike and obtain a Return Authorization number prior to returning any items. There is no guarantee that a credit will be made for an unauthorized return.
Return eligible merchandise must be returned complete in unused, uninstalled condition with original packaging, accessories, and instructions, and wrapped securely to protect from damage in shipping. Any item damaged while being returned to The Rike is your responsibility.
Refused and returned goods will be inspected to assess fit for resale condition.
Refund Policy
In the process of a refund being issued by The Rike, you will be responsible for the following costs unless otherwise stated in writing by The Rike:
Original shipping costs, including shipping charges covered by promotional free shipping discount
Any accumulated storage fees from the carrier
Return shipping costs
Restocking fees
Cancellation fees
Repair or lost value charges for any damages incurred to product
Charges disclosed as non-refundable
If the seller agrees there is a misrepresentation, the seller will refund the purchase price of the merchandise upon its return to the specified return address.
The Rike will deduct all applicable charges before issuing a refund.
Your account will be adjusted in the amount stated by The Rike once all procedures have been followed.
If you fail to follow these terms and conditions, there will be no credit.
You must recognize that the complexity of returns and cancellations may cause a refund to take up to two billing cycles. The Rike's customer service and accounting staff will work hard to complete the process as quickly as possible.

Lost or Stolen Packages
We are not responsible for lost or stolen packages confirmed to be delivered to the address entered for an order. Upon inquiry, We will confirm the delivery to the address provided, date of delivery, tracking information, and shipping carrier information for the customer to investigate.

Exchanges (if applicable)
Want to exchange an item? Contact us for arrangement and simply return your original item(s), and place a new order. We will ship your new order immediately, reducing wait time for replacement items. Once we receive and process your return, we will issue an immediate credit.
Return RMA
A return merchandise authorization # (RMA #) will be issued for ALL returns. Please do not send back any items without an RMA#. Customer is responsible for all return shipping costs unless the item arrives DOA or DAMAGED. Once the item is received back to our warehouse a technician will verify if defective. Please allow 72 hours (longer during Holiday seasons) for this process. Once verified as defective a Replacement or Refund of the SAME item will be issued free of cost to the customer. If item is returned free of defect and in working condition, customer is then responsible to have item shipped back to them. ALL returns must be shipped back within 10 days of receiving RMA# and must be in original packaging with any and all accessories included with return including all original Packaging.
Return Exception
Our standard return policies do not apply to all items. If an item cannot be returned, it will be noted beside the item on the product detail page and in your Shopping Cart.
Exclusion from Coverage
Damage resulting from abuse or misuse.
Damage resulting from extended wear and tear.
Damage resulting from tampering or a customer modification.
Damage resulting from exposure to a caustic substance.
Consequential, incidental, indirect, punitive, exemplary, and/or special damages (although some states in the United States do not allow the exclusion or limitation of consequential or incidental damages, so this exclusion might not apply to you)
To Make a Return or Exchange
1) Contact us to get an RA (Returns Authorization) number.
2) Write this number on the outside of the package you are shipping back to us.
We recommend using USPS to ship your return.
Insert here your Tracking Number to see your order status (check your e-mail to see your Tracking Number):

Any questions? Contact us at info@therike.com