How to Make Herbal Salt Blends + 4 Recipes
It is mighty cliché to start a health and wellness blog with a Hippocrates quote, but I am willing to sacrifice originality for truth. The old adage "Let food be thy medicine and medicine be thy food" is still worthy of repeating some 2,400 years after it was first uttered and despite centuries of medical and health advances, it is still relevant today. In this modern age, especially in America, many of us are living with nutritional deficiencies and are at a higher risk of experiencing food-related illnesses.
While the list of reasons contributing to this growing problem is long and complex, I like to remain solution-oriented and do what I can to prevent, or at least minimize my risks. I'm not perfect when it comes to my diet, but I can easily commit to simple changes that add more nutrient-dense plants and health-supporting mushrooms. After all, it is the day in and day out wellness routines that really have lasting effects.
This is why I started adding health-promoting ingredients to a staple I use often—salt. You might now be asking why I am recommending the use of salt in a blog on health. Salt, in and of itself, is essential for the human diet, and as with most things in life, it's all about moderation!
According to the Center for Disease Control, the average American consumes 30% more than the recommended salt intake. Replacing table salt with herbal salt results in consuming less of it while increasing the nutritional value of your meals. You'll notice in the recipes below that the salt-to-herb ratio is roughly 30%. This of course can be tailored to your taste, but I found the flavor to be in perfect balance and the ratio seemed to be in divine proportion.
I hope that these recipes serve as a starting point for you to get comfortable with the idea of homemade salt blends so that you can start customizing them based on your needs.
Wishing you many healthy meals surrounded by those you love.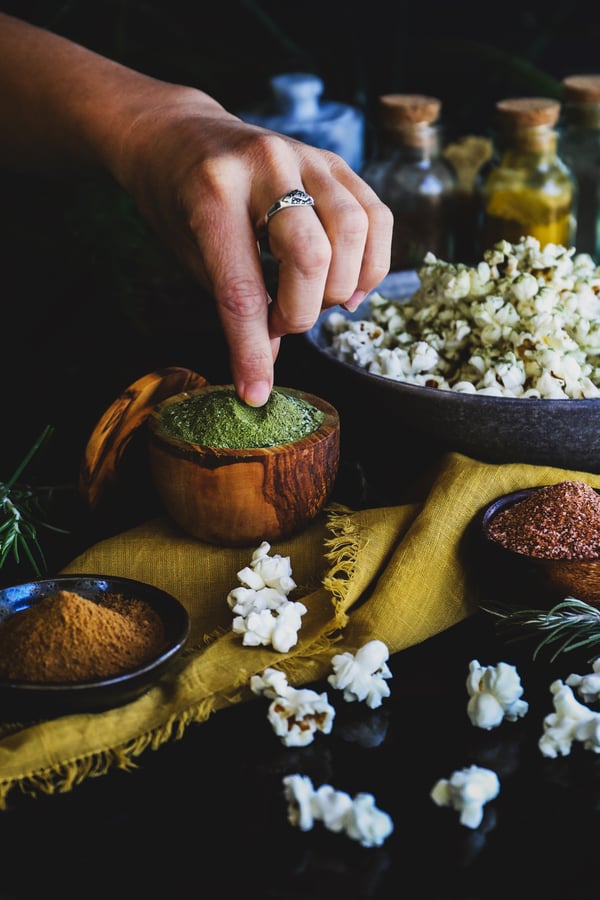 Nutrient-Packed Green Salt Recipe
Adaptogenic Mushroom Salt Recipe
Antioxidant Red Salt Recipe
Joint-Supporting* Turmeric Recipe (Low-Salt)
Directions
Thoroughly mix ingredients in a bowl and store in an airtight spice bottle.
Label with ingredients and date to ensure optimal freshness.
To use: Add blends to your cooking in place of straight salt. They can also replace your table salt.
Pro Tips
If ingredients aren't powdered to the same size grind, I recommend blending them all together either in a spice grinder or with a mortar and pestle. This will ensure a more even mixture when adding to food.
Having several blends made up in advance offers a wider variety of flavors to meld with different dishes.
It's a good idea to switch up your herbs so that your body can benefit from the varying vitamins and minerals.
You can substitute some of the salt for seaweed powder to boost the nutritional benefit. However, keep in mind that seaweed contains naturally occurring iodine. While also necessary for optimal health, the National Institute of Health recommends that most adults not exceed 150 micrograms of iodine per day so adding seaweed powder to all of your meals may not be ideal.
When adding new herbal ingredients to your health regimen, we recommend doing research and consulting with a healthcare practitioner to ensure that the new ingredients will complement your individual needs.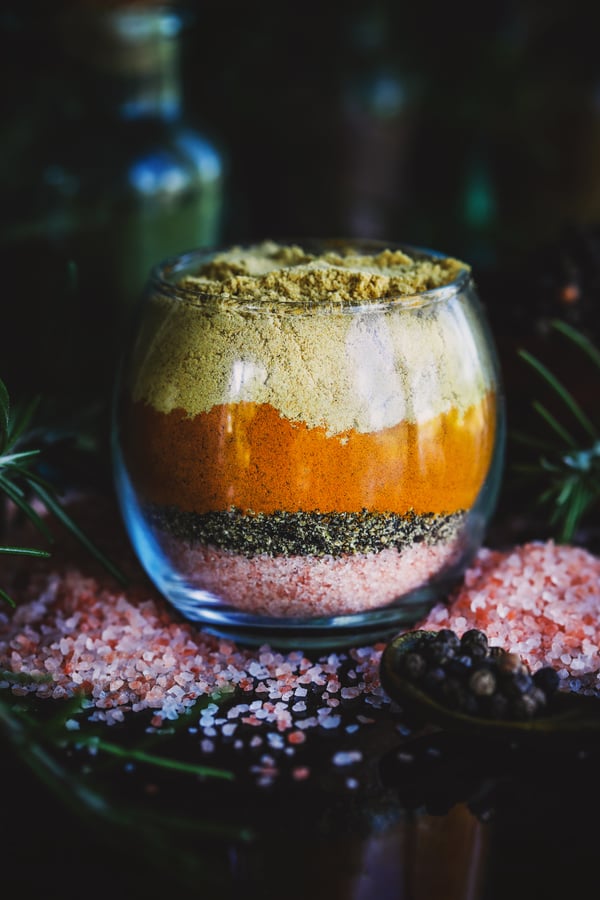 OTHER ORGANIC INGREDIENTS YOU CAN TRY WITH YOUR SALT BLENDS
---