Fruit and Herb-Infused Water Recipes
A huge part of healthy living is about adopting lots of small, daily habits that add up to lifelong wellness. For over 25 years of clinical herbal practice, I have sought out and recommended simple hacks for making good lifestyle choices easier. Infused waters offer a simple way to fit nutrition and wellness support into something we already do every day. We all drink water, after all, so why not add the flavor and benefits of fruits and herbs?
When trying to set up good lifestyle practices for your household, it's important to be realistic about what your family will do, and what they won't. Setting up a home hydration station was one of the things that, I discovered early on, falls into the "will do" category for my family (and many others as well!). 
What exactly is a "hydration station"? Basically, it's a designated spot set up in the center of the kitchen traffic flow, that people can easily and frequently access to pour themselves a drink. You can keep a kettle there for tea during cooler months, and herb-infused waters are the perfect option during the summer, when it is just too warm for a hot drink. I like to put out a nice place mat with attractive glasses, along with an enticing fruit and herb-infused water. When people walk through the kitchen, they can't help but pour themselves some refreshment. Before you know it, drinking herb waters will become a new habit around your home!

Infused waters are really nothing fancy, but when your water is garnished with herbs and fruit, they create the impression that special attention has been given to quenching your thirst. For such a luxurious-feeling experience, it really doesn't take much time or effort to quickly chop up a little seasonal fruit, throw in a few sprigs of herbs, and put them into a pitcher with water—and the combinations are endless.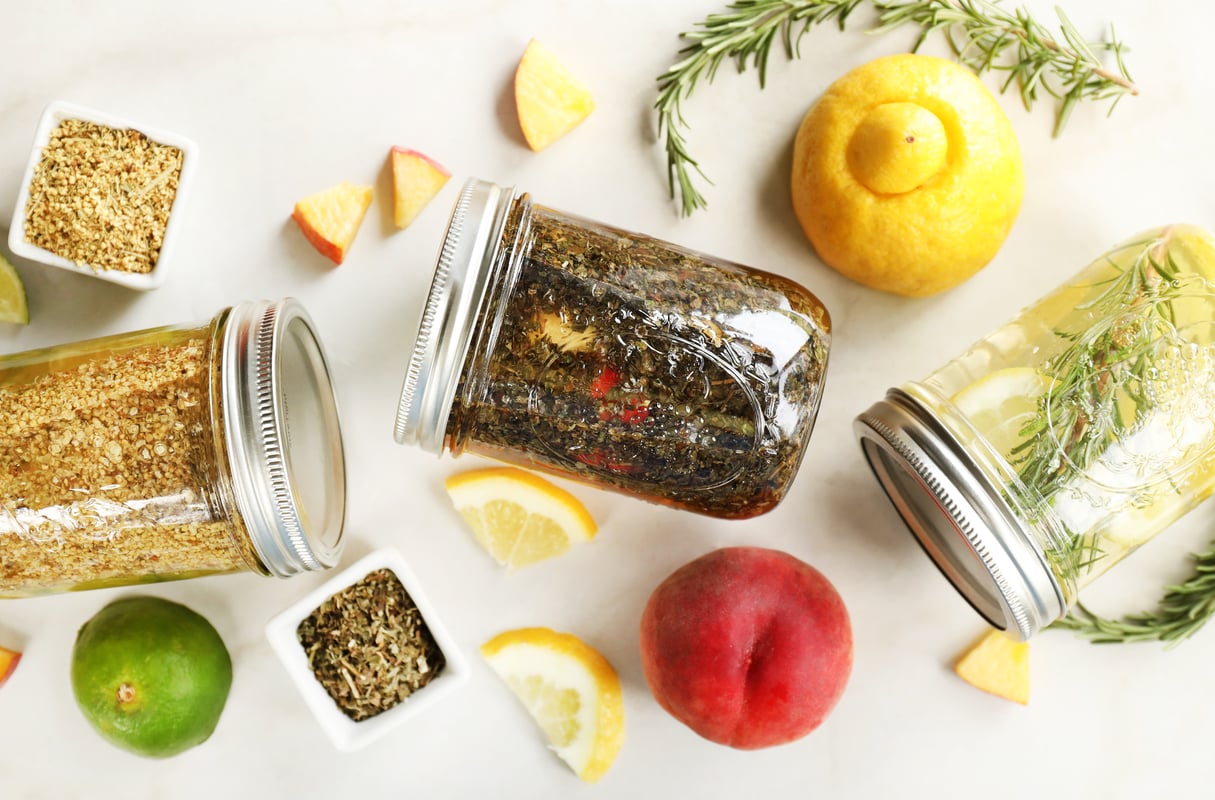 One of the things that so many people love about this herbal preparation is that there is no math required—you can add as much fruit and herbs as you like! Creating herbal waters is a visual experience as well as a flavorful one, offering an opportunity to play around with color and shapes to see what looks most beautiful in the pitcher. This also makes them a very kid-friendly modality—teaching your children to "decorate" a pitcher of water with some mint, rose petals, and their favorite fruit is really a perfect way to get them excited about using herbs on a daily basis.
Here are just a few of my favorite combinations from the herbal water chapter in my book, The Herbal Kitchen: 
Herb & Fruit Combinations for Infused Water
Ingredients (choose a pair or mix and match!)
Directions
Roughly chop up the fruit and botanical combination of your choice.

Add ingredients to a glass pitcher or infuser bottle and top with cold water.

Let steep for five minutes or more before enjoying.

For safety, infused water should be changed daily if left to sit out at room temperature, or can be stored in the fridge for up to three days.

---