Best Essential Oils for Hair Care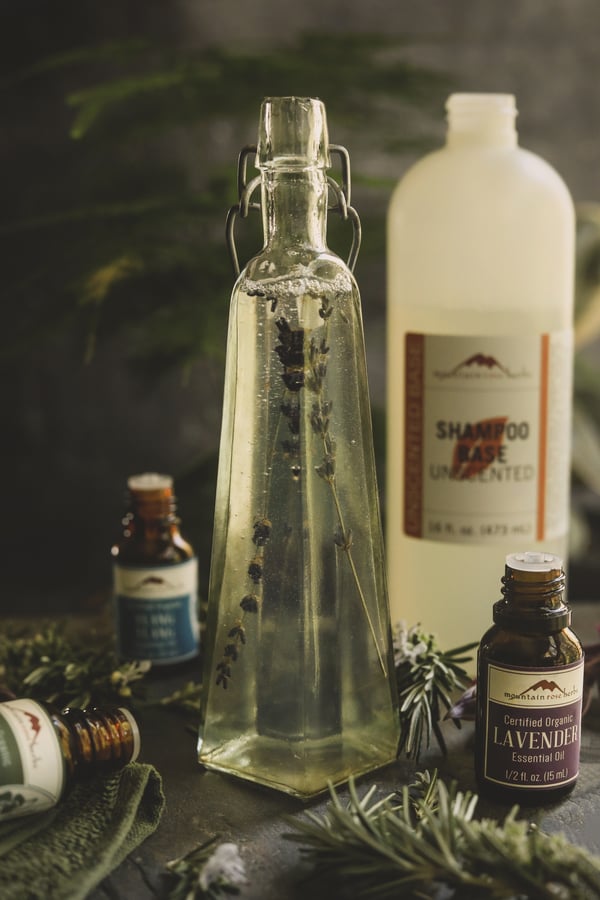 Essential oils are growing in popularity. With uses ranging from green cleaning to DIY skin and body care, it's no wonder they are becoming a staple in cabinets and home apothecaries around the world. One of the uses that I have been appreciating lately is the incorporation of these precious oils in hair care. In addition to helping with the maintenance of healthy hair and scalp, they also provide an aromatherapy experience during self-care time. Plus, I take the opportunity to swap synthetic fragrances for pure oils any chance I can get.
Here are some of my favorite oils that I enjoy working with when making hair care formulations for myself and others. While I have not conducted my own scientific studies on these oils, my research paired with life experience has left me confident in this list. I hope you find some pure essential oils here that will meet your current needs and desires.
Lavender essential oil is one of the most commonly used oils in hair care. Not only does its floral aroma appeal to most people, but lavender is also helpful in maintaining healthy skin and scalp. Additionally, this oil is used to assist with occasional dandruff or dry conditions of the scalp.
Another widely popular essential oil for hair care is beloved rosemary. This essential oil can be used for all hair types and skin conditions but is best known for its ability to support hair growth for those experiencing thinning hair. It is also among the most studied oils for hair, and many find the price point of this oil to be accessible.
When it comes to hair care, tea tree essential oil is known to benefit those with more sensitive or irritated scalps or who struggle with dandruff conditions. Tea tree oil is also used to deeply cleanse and carry away impurities, which is especially helpful since our hair accumulates dirt and residues from the products we use, as well as from our environment. You will often find tea tree oil in shampoos that help to create lift and bounce to the hair, offer dandruff control, and ones that defend against lice.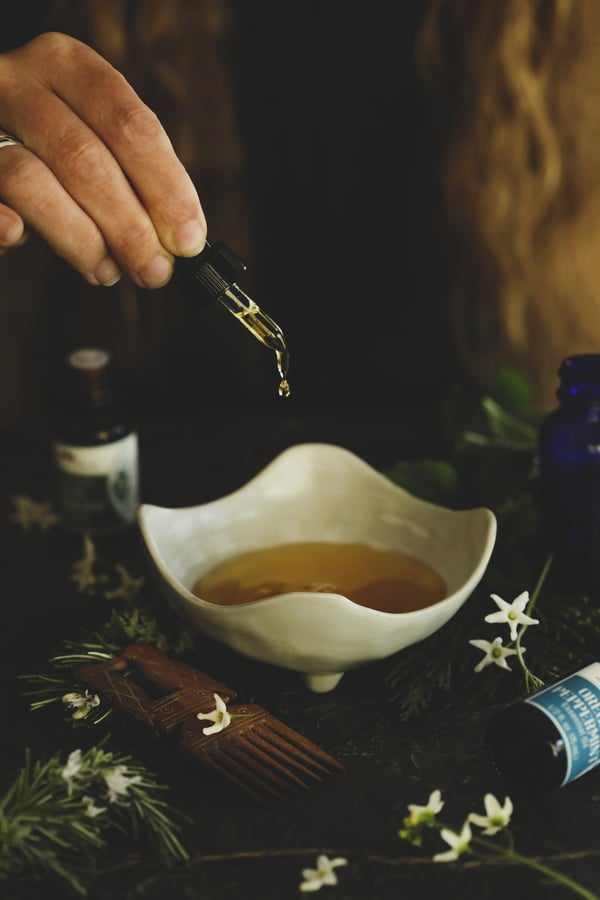 Peppermint essential oil is a wonderful oil for those who generally have more oily skin conditions because it helps to dry excessive oils. This is why you see peppermint used in shampoos for normal to oily hair. Peppermint also helps to improve circulation in the scalp, which in turn helps to enliven and invigorate the hair follicles.
This oil is good for most hair and scalp types. I have found that this one is used in a similar way as lavender, but imparts an earthy, more grounded aroma. Cedarwood essential oil also has been reported to assist with balanced oil production on the scalp. Healthier scalp = healthier hair!
Aside from its intoxicating aroma, ylang ylang is often used for stimulating hair growth. It is not ideal for those with a more oily scalp, as ylang ylang is touted as being a great stimulant for sebum and oil production. This characteristic helps to manage dry, brittle hair and to prevent breakage and further thinning.
Fun fact: One of the first nationally advertised products for hair contained ylang ylang oil! A famous barber by the name of Alexander Rowland (London, UK) created a custom hair care blend called Macassar Oil in the late 1800s which quickly became popular due to its claim to help people grow thicker, more full hair.


How to Use Essential Oils in Hair Care
---