Aromatherapy with Tea Tree Essential Oils + Diffuser Blend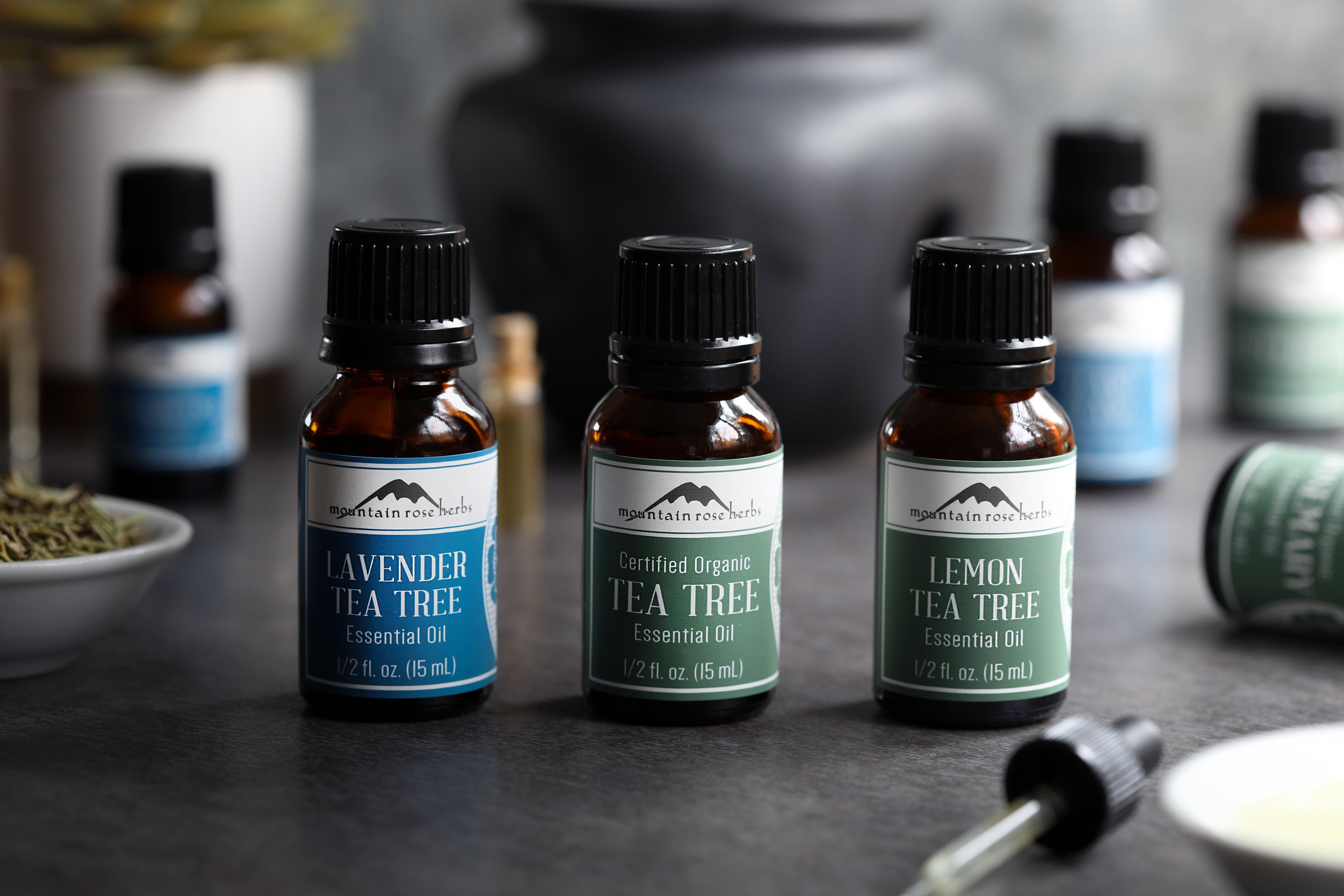 For refreshing, pungent, and herbaceous aromas, the Myrtaceae family is an excellent place to start! These woody evergreen botanicals include allspice, manuka, clove, eucalyptus, and a true aromatherapy staple: tea tree. We offer three varieties of oils from this fragrant family of herbs, spices, and bushy shrubs, and putting these energizing essences to work in your scent stylings is an excellent way to brighten your day!
Types of Tea Tree Oil
"TRUE" TEA TREE ESSENTIAL OIL
Our organic tea tree essential oil is steam distilled from the leaves and twigs of Melaleuca alternifolia. It is a middle note oil (learn more about fragrance notes!) with a warm, spicy, and pungently camphorous scent with which you are probably familiar.
Tea tree oil is comprised mainly of terpenes, which have characteristically strong aromas and are used by plants to defend against predators. Similar constituents can also be found in sweet marjoram and juniper berry essential oils. The properties of tea tree oil are well known for supporting skin health, which is why this oil is popular in shampoos, deodorants, and salves for its medicinal aroma and other skin-supportive properties. Tea tree essential oil blends well with many oils, such as thyme, peppermint, oregano, or ylang ylang.
Tea tree has been an important part of Aboriginal medicine in Australia for thousands of years. Though many know the story of Captain Cook brewing tea from the leaves (thus giving them the name "tea tree"), it was the Aborigines who originally showed European sailors how to use it.
Essential oils should not be used undiluted on the skin, as they are highly concentrated and can potentially cause irritation. Our organic tea tree roll-on is pre-diluted at 2% with odorless organic fractionated coconut MCT oil, so is ready to use. This bottle easily travels wherever you go and is great for applying fragrance to small spots without making a mess. The roll-on bottle is also refillable for your own roll-on fragrance creations!
LAVENDER TEA TREE ESSENTIAL OIL
Our lavender tea tree essential oil is steam distilled from the leaves of Melaleuca ericifolia. This top note oil is light and fresh, with beautiful floral and citrus notes. The green and medicinal woody undertones reflect its relation to the myrtle family, and its invigorating aroma can encourage relaxed and healthy breathing.
Also often referred to as "rosalina," lavender tea tree oil typically contains a sizeable quantity of linalool, a terpene which is also one of the main constituents in lavender essential oils. Lavender tea tree essential oil can be used in place of traditional tea tree oil in any DIY body or hair care recipe if you're looking for something a little less robust in fragrance. This oil will also combine beautifully with blue tansy, chamomile, lavender, or frankincense oils.
LEMON TEA TREE ESSENTIAL OIL
Lemon tea tree oil is steam distilled from the leaves and twigs of Leptospermum petersonii. This top note oil is supremely lemony, with herbaceous undertones that are clean and invigorating. As the oil dries, the herbal aromas become more apparent as the citrus notes tone down slightly. While it is not in the same genus as tea tree or lavender tea tree, it belongs to the same family of Myrtaceae. Blend this ultra-lemony oil with cedarwood, rosemary, eucalyptus, or any citrus essential oils.
Lemon tea tree oil can also be found under a similar name: lemon-scented tea tree oil. It contains many of the same constituents found in lemon, lemongrass, and litsea cubeba essential oils. This essence is perfect in any DIY cleaning recipe and adds lovely green and citrus notes to aromatherapy blends.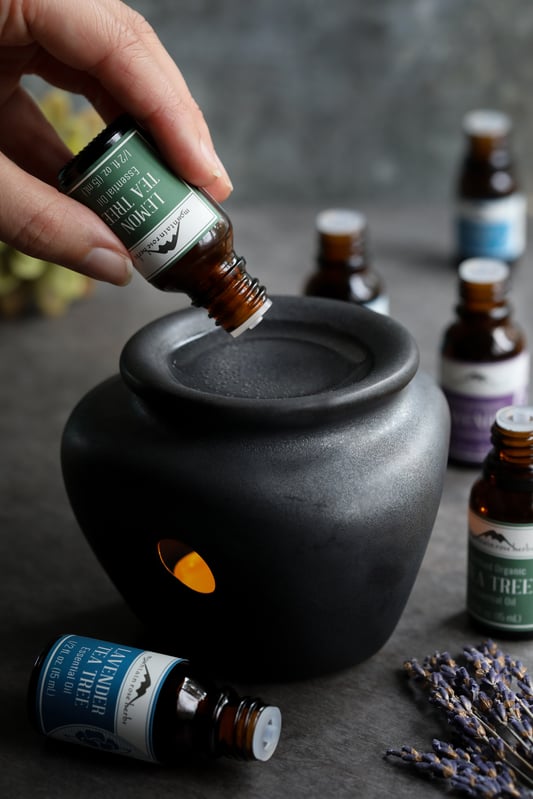 Awakening Diffuser Blend with Tea Tree Essential Oil
This recipe is provided in parts so that you may easily increase it for your personal needs and diffuser size. Note that any of the tea tree oils mentioned above can be substituted in place of the "true" tea tree listed to create a subtly different effect!
Ingredients
---