6 Ways to Use Jojoba Oil for Skin & Hair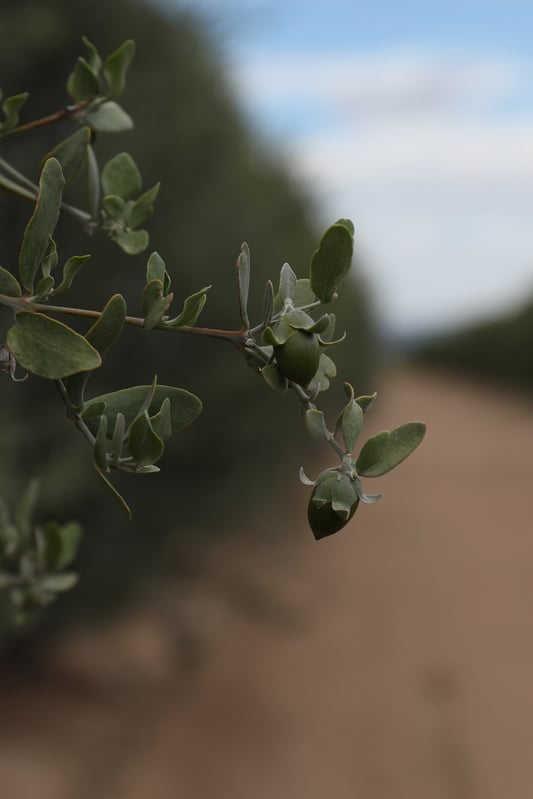 I first encountered jojoba oil about 10 years ago, and I have loved it ever since. Used alone or blended with my favorite cosmetic butters and oils, jojoba is a body care dynamo! The qualities of this oil are very similar to the sebum produced by our skin to help it stay moisturized, making a noncomedogenic (non-pore-clogging) option with a wide range of natural self care applications.
The jojoba plant is native to the Sonoran Desert of Mexico, California, and Arizona. The oil's bright golden color evokes the hot desert sun under which the bushy plant thrives. Jojoba seeds contain roughly 40 to 60% oil. Technically, the oil within these golden seeds is considered a liquid wax and is much more stable than a common vegetable oil.
6 USES FOR JOJOBA OIL
As a Face & Body Moisturizer:

 

Jojoba oil is a fantastic moisturizer, and can be used alone or blended with your other favorite

 

skin-nourishing oils. Use for your face and body daily, or whenever and wherever you need it.
For Hair & Beard Health:

 

Apply a small amount of jojoba oil with your hands to dry ends. Jojoba oil is great for beards too and helps keep the sensitive skin underneath healthy and moisturized. For

 

deeper conditioning

, apply a dime-size amount of oil (or a little more as needed) into hair and work into strands from the roots to the ends. Let oil be absorbed for at least 30 minutes before shampooing.



To Hydrate Lips:

 

Fill a roll-top bottle with jojoba oil and use freely on your lips. Jojoba oil is also a wonderful ingredient in

 

homemade lip balms

 

and can be used in place of any carrier oil
As a Shaving Oil or Aftershave:

 

Apply a healthy layer of oil to skin before shaving, or massage on skin post-shave to keep your skin moisturized and happy.
For Natural Makeup Removal:

 

Drop a small amount of jojoba oil on a cotton ball or swab and gently wipe away makeup at the end of your day. Jojoba oil can also be used in

 

oil cleansing.
As a Body Massage Oil:

 

Jojoba makes an excellent, low-fragrance and gentle massage oil on its own or as a nourish base for

 

massage oil blends

. Also, since it's actually a wax, jojoba oil is less likely to stain clothing or sheets than other massage products.
---