21 Easy Vegetarian Recipes for Beginners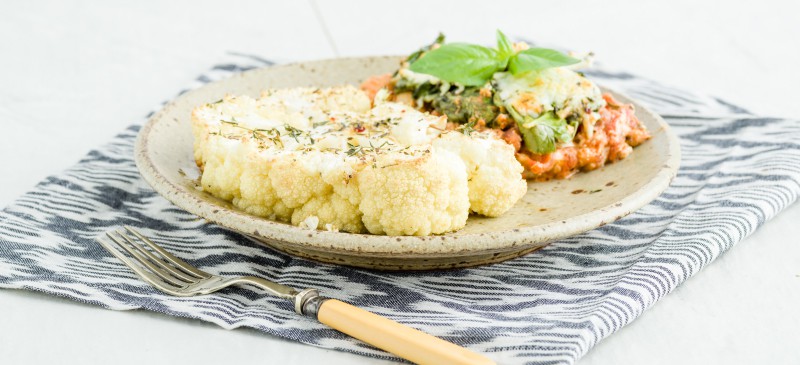 Too often, a meal isn't considered a "real meal" unless it has meat in it. But if you're a vegetarian or just trying to cut back on your meat intake, it can sometimes be tough to find easy vegetarian recipes that are delicious and haven't been relegated to side dish status.
These easy vegetarian recipes, however, are different. They're not trying to replicate the taste of meat. Instead, they're celebrating veggies and meat-free meals in all of their glory. Whether you normally abstain from meat or not, there's sure to be an easy vegetarian recipe here you'll love.
21 Easy Vegetarian Recipes for Beginners
Often times, simple is best. That's definitely the case with this easy vegetarian pasta, where just a few ingredients, like roasted tomatoes, basil, black pepper and parmesan cheese, combine for maximum flavor. Bonus: it's a delicious way to use up fresh tomatoes and basil.
This may not be a full-fledged recipe, but bolognese sauce is so versatile, you'll likely find yourself using this vegetarian recipe quite often. Here, cauliflower takes the place of meat for a bulky, veggie-hearty sauce that's a hit with kids and adults alike. Toss it over zucchini noodles or your gluten-free noodles of choice, and your meal is complete!
It may not be a juicy beef steak, but this is one of my favorite quick and easy vegetarian recipes. Sliced cauliflower gets topped with avocado oil, herbs and spices, then roasted. Serve this one with salad for a hearty dinner.
Try a different take on a stir fry with this veggie-loaded version. Low-carb cauliflower takes the place of regular rice and then gets tossed with shredded cabbage, peas and good-for-you spices like turmeric and cumin. It's also easy to substitute out the veggies for whatever's in the fridge.

This Middle Eastern classic is super versatile — try it over salad, with rice or even as a snack — and simple to make at home, too. Not only is this version vegetarian, it's also gluten-free!
Like meatloaf? Then wait until you try this black bean loaf! This vegetarian take on the meaty family fave is packed with black beans, corn, gluten-free oats and flour and tons of spices and seasonings; Your taste buds are going to love it. Topped with homemade creamy avocado sauce, you've got a meat-free main that's packed full of fiber and protein.
Skip Indian takeout and make your own! This palak paneer recipe is chock-full of spinach and goes perfectly with Paleo naan bread. I love the creaminess that yogurt and feta add and how easy this is to make.
This colorful dish has a helping of veggies in every bite. Coconut milk gives this a creamy, silky texture without having to use dairy. Best of all, you'll only spend about 10 minutes at the stove; the rest of the time, this easy vegetarian recipe is simmering. It's quicker than ordering in … Give it a try next time you're thinking of delivery!
Ratatouille isn't just a children's movie. It's also an eggplant-based dish that's excellent when you're craving something cheesy and healthy. Thinly sliced eggplant, zucchini and squash are brushed with oil and topped with roasted red peppers, basil and goat's cheese. Serve this elegant main with a green salad or roasted potatoes.
This easy vegetarian recipe proves how versatile meat-free meals can be. Protein-rich lentils and cheese make up the base of these quesadillas. The lentils and rice cook in the slow cooker, so hands-on time is minimal, making this one a great option for busy days and nights.
Missing ground beef tacos? Then it's time to try these raw walnut tacos. Combining walnuts, which are packed with healthy fats, coconut aminos and spices creates a meat-like texture that's perfect not only for stuffing in low-carb lettuce tacos, but also in quesadillas. Top these vegetarian tacos with homemade guacamole.
Gyros are delicious, but sometimes you have to wonder about that rotisserie meat. Get your fill with this vegetarian option instead! Roasting the chickpeas with seasonings ensures they're full of flavor before getting packed into a pita with onions, tomatoes and tzatziki sauce.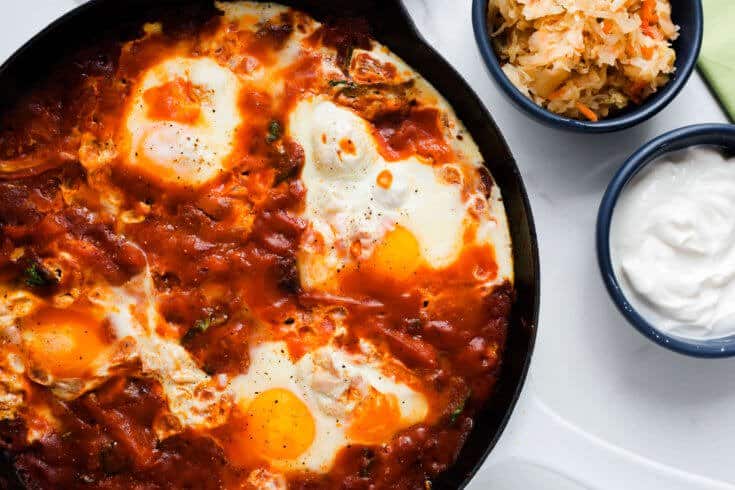 I love a recipe that can be enjoyed for breakfast or dinner. If you're a "brinner" fan too, give this shakshuka a try. It's made from eggs, but it's not like any eggs you've had before. Packed with fire-roasted tomatoes, spicy harissa and red peppers, this shakshuka is topped with probiotic-rich sauerkraut and grass-fed yogurt. Your taste buds and gut will love this one.
Picked up a pack of soba noodles but aren't sure what to make with them? Give this quick and easy vegetarian recipe a whirl. Soba noodles cook quickly, so this meal is on the table in 20 minutes. I love how many veggies get involved here, but the best part is the homemade Thai sauce. Made from maple syrup, coconut aminos, nut butter and spices, you'll want to smother this sauce on everything!
Gooey mozzarella cheese and juicy sun-dried tomatoes take center stage in these vegetarian burgers. They're full of protein thanks to the quinoa and are ready in under 30 minutes. They cook right in the pan, so you can enjoy them year-round!
This easy vegetarian lasagna recipe may have you rethinking your meat-based recipe. Sliced, pan-fried eggplant takes the place of noodles, while mashed sweet potatoes, cheese and spinach make up the filling. It's a genius way to chow down on the Italian favorite and feel good about it!
These vegetarian meatballs are so versatile, they're sure to be a staple on your menu. Made from cauliflower, quinoa and your choice of a dry ingredient, like oat flour or almond meal, they're perfect for adding to salads, into sandwiches, your favorite pasta sauce or in veggie bowls.
Calzones are basically stuffed pizzas, and boy, are they good. My version is gluten-free and bursting with nutrients; there's even sweet potato in the homemade dough! I use marinara sauce and mozzarella as the filling here, but you can add whatever your preferred pizza toppings are.
Sushi is often considered a healthy meal option, but that really depends on what's inside it. This version swaps out white rice, which has no nutritional value, for cauliflower rice. Instead of low-quality fish, we'll pack this sushi with fresh veggies, making it the perfect pack-and-go lunch.
Spice up pizza night with this plant-based pizza. Instead of the usual tomato sauce, you'll layer on a homemade barbecue sauce, then pile on thinly-sliced vegetables. If you eat cheese, sprinkle some on for a creative, seriously yum pizza.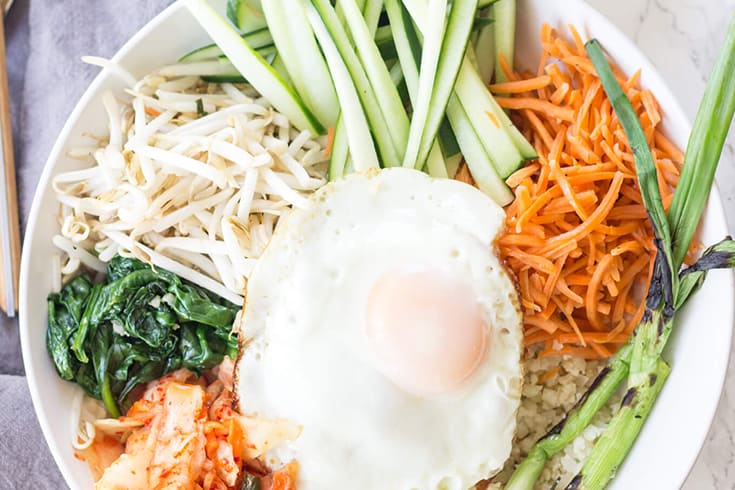 This bibimbap recipe is a seriously easy vegetarian recipe. You can pull this meal together in just 20 minutes and with only one pan. It doesn't get much easier than that. Don't know what bibimbap is? "Bibimbap" literally translates to "mixed rice." The rice is often topped with sautéed vegetables, a sauce, beef or other meat (not in this case!) and sometimes an egg.
---